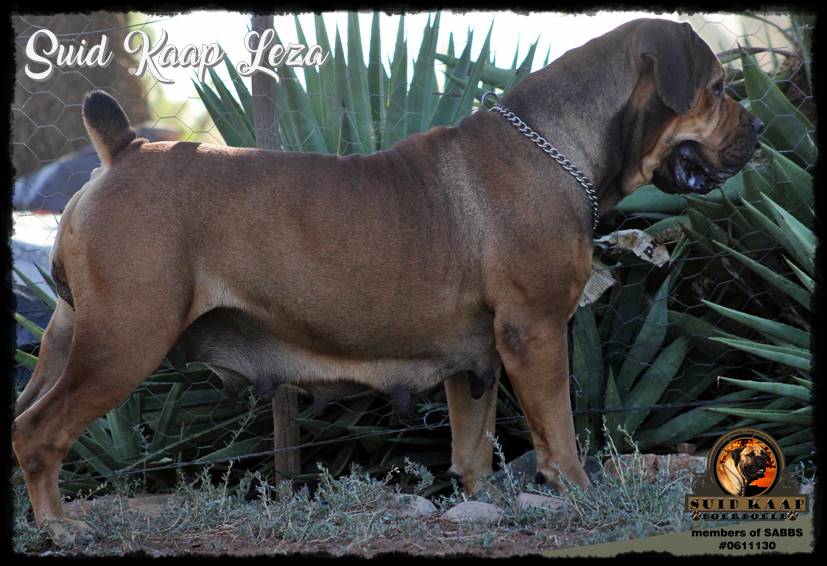 SABBS 88.1
Asthor Lyla 86.5 X Elevation Karools 93.6
VH TESTED Free , EN/EC: None
Achievements:
GRBC 2012 show 1st in her class, Sub Jnr Champ, Res BOB Female Pup of the day
Mossel Bay Show 2013 2nd in her class
George Regional Show 2013 1st in her class and Res Jnr Champion
Outeniqua Farmers Market Show 2013 Best of Breed Winner
Mossel Bay 2014 show 1st in her Class, Res Snr Champ and Family Class Champ
George Regional Show 2014 1st in her class, Snr Champion and 2nd in the Family class champion.
George Appraisal 2014 BEST APPRAISED FEMALE OF THE DAY 88.1%
National Boerboel Show 2014 – 2nd in her class 18-24months
SABBS Mossel Bay – 3rd in her class, FAMILY CLASS CHAMPION FEMALE, RESERVE WORKING CLASS FEMALE
SABBS WESTERN CAPE REGIONAL SHOW – Classwinner 24months – 5years , Reserve Senior Champion.
SABBS Southern Cape regional Show – 2nd in her class
SABBS Riversdale Show, Class Winner, Senior Champion and Grand Champion Female
SABBS Mossel Bay Show, 3rd Place in her class
SABBS SC Regional Show 2016, 2nd in Class, Reserve Senior Champion Female, Family Class Champion Female
Leza is the feminine copy of her father Elevation Karools. She is the eldest daughter to our darling Lyla. This beautiful girl has it all, feminine, graceful and a stunning mother; which is one of our biggest blessings, she loves her puppies. Leza has to be one of our best bred dogs to date, she has it all and she has a bloodline to prove it.
She is a wonderful dog, and a true friend, she loves to be loved.
Her show results and appraisal score speeks for itself, she just is our one of a kind kinda girl.
She is the mother of Suid Kaap Tinkerbell, Suid Kaap Hope, Suid Kaap Fiela se kind, Suid Kaap Oskar, Suid Kaap Blade and Suid Kaap Milla. Her latest offspring include Suid Kaap Lisa and Brits Junior Champ Suid Kaap Bismarck. Her youngest son Suid Kaap Omega also shows allot of promice.