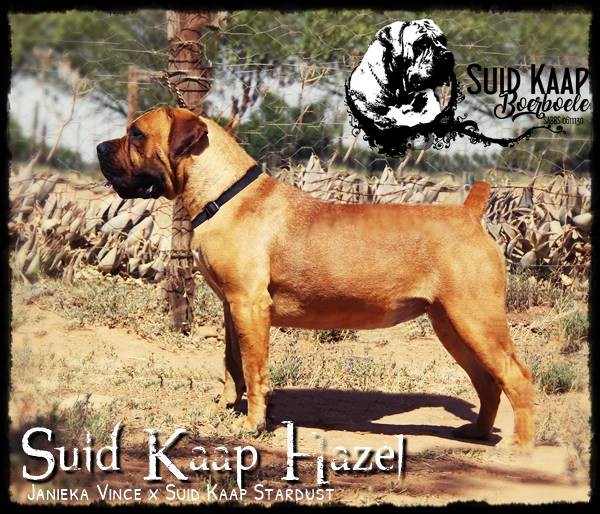 Janieka Vince x Suid Kaap Stardust
HD: TBT ED:TBT VH:NONE
SABBS 83.6 LNR
Suid Kaap Hazel is the eldest daughter of Janieka Vince and Suid Kaap Stardust. She is the full sister of Suid Kaap Starlight. These sisters are the very best of who we are, they are our 4th generation and we are very excited about them. She is also a granddaughter of Middelpos Oscar 1.
Hazel is an outstanding young female. She has excellent angulation, good topline, nice bone for her age and a good stance. Hazel is just an all-round stunner and we are so excited about her, her 1st appraisal score on the NLS is excellent and we are really proud of her. She carries herself with grace and her movement is excellent. All and all she is really everything we wished for from the combination.
Hazel came 3rd in her class of 15 to 18 months at the recent show. She was just 15 months old.
Her line includes national and Regional champions like ; Suid Kaap Leza, Suid Kaap Tinkerbell, Middelpos Oscar 1, Middelpos Dixie, Groenberg Rambo, Meester Koevoet and Voorslag Douzer.
I am really excited about these two sisters. Their bloudline stems back to where we began as breeders, back to Asthor Lyla